DUMPSTER RENTALS
TODAY FOR
YOUR CLEANOUT
OR REMODEL
Dumpster Rental & Junk Hauling | Queensbury NY
Book Online Now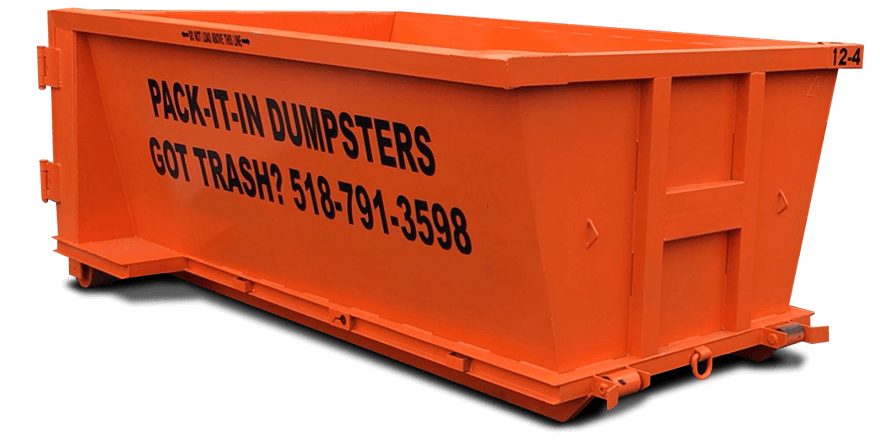 Affordable Dumpster Rental Service | Queensbury, NY
Pack-It-In Dumpsters Inc. offers different sized dumpsters for rent in Queensbury NY that are suitable for homeowners and contractors with different kinds of projects. We provide flexible and affordable dumpster rental services to homeowners and communities in Queensbury and the neighboring areas.

Whether you have a small or large-scale home improvement project, we can provide a cheap dumpster rental that is the right size to haul all your trash in one trip
  Dumpsters

WE HAVE CHEAP DUMPSTER RENTALS THAT CAN BE DELIVERED TODAY FOR YOU!

Check out our pricing below and our online booking feature!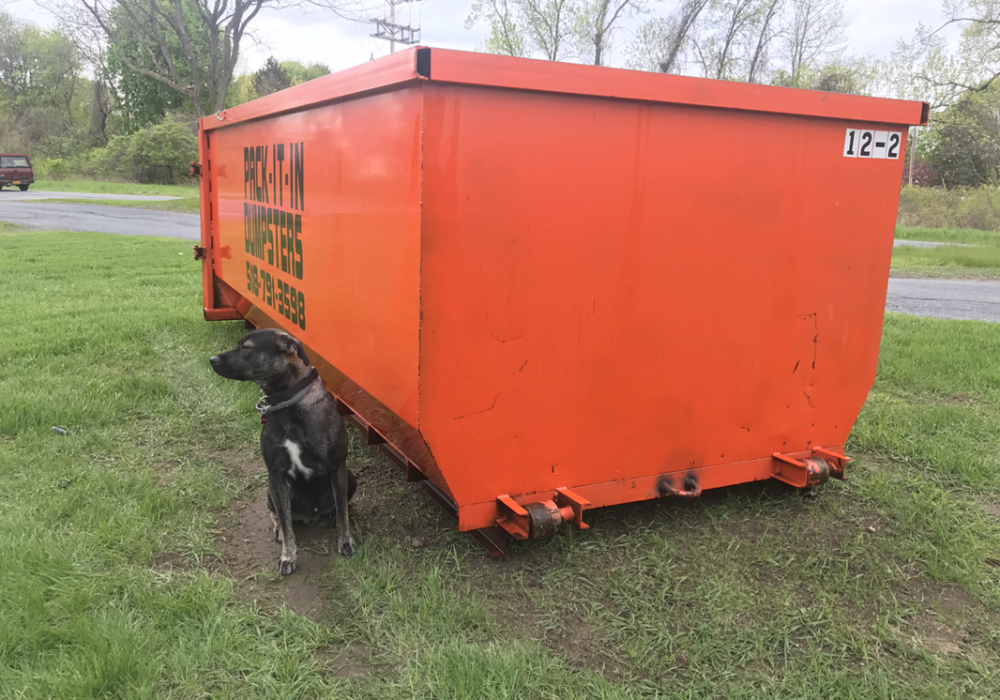 Residential Dumpster Rentals
---
We offer commercial & residential dumpster rentals in various sizes to accommodate different projects in Queensbury NY. Whether you have a small-scale renovation, demolishing a structure on your property, clearing out years of junk from your garage or basement, or doing a full house cleanout before a move, we have the commercial or residential roll-off dumpster that will be perfect for your needs.

We have large & small roll off dumpster rentals that will work great for any project you are planning. We offer four different sizes roll off dumpsters for rent in Queensbury NY, catering to both residential and commercial projects. The sizes vary in order to accommodate different needs, such as junk removal or property management.
If you're looking for a easy and efficient way to get rid of your waste in Queensbury, then we have the answer for you!

Rent a dumpster from Pack-It-In Dumpsters Inc!

We offer the most competitive pricing along with a generous rental time. So no matter what size dumpster you need, or how big your project, we have you covered!
Construction Dumpster Rentals
Pack-It-In Dumpsters offers the best dumpster rentals in Queensbury NY for residential roofing replacements, kitchen or bathroom renovations, and yard maintenance projects. Our large & small dumpsters are perfect for hauling junk, renovation debris removal, small construction projects, deck removal, moving into a new home and bathroom remodeling projects.

Our rental dumpsters are affordable and designed to be gentle on your property. Other dumpsters can damage your yard or driveway, but ours are less likely to cause any damage.

We take extra care when you rent a dumpster from Pack-It-In Dumpsters Inc.. Ours drivers take extra pride in their jobs and will make sure to not damage your driveway during dumpster delivery and dumpster pickup. It doesn't matter what size dumpster you are renting; we always place boards on the ground to avoid damage. We also explain the weight limit of the dumpster to you, so you can avoid overloading it during your home projects.
Online Booking in Queensbury NY
Our easy online dumpster booking makes the process even easier for you. Not only are we all about helping you save money and time with your trash, we want to make booking the dumpster rental as easy as possible as well.

We are the only company in our service area with real online booking, that once you book the dumpster, you're schedule to have it delivered. This is a simple process that all of our customers love! They see the ease of the process and realize they can book a roll off dumpster online at anytime during the day or night. You also get to compare the differences in the sizes so you can make the best informed decision.

You can check the pricing and size dumpsters we offer, then once you decide which size you'd like, you can select that size to take the next step. Then you'll be asked the dates of which you'd like the rental so you will be able to pick your delivery and pickup dates.

Once you select the dates, you'll be asked to put some information in such as name, service address, email, & phone number. Once everything looks good to you, you can pay for the dumpster from our secure website, and you'll receive an email with your confirmation & receipt. it really is that simple to book cheap dumpsters online with us.
When calling to book a dumpster over the phone we make the process super easy for all Queensbury NY customers. Our staff takes the time to find out what type of debris you're getting rid of to help you make that best decision on what size dumpster you choose to rent.

Once we confirm the dumpster size, you'd like we start getting some more information.

First, we will get the dates you're looking to use the dumpster and schedule your delivery and pickup dates. After that we will just grab the needed information such as name, email, service address etc. Once we have all the information, we will send you a confirmation and receipt and you'll be ready to go for the scheduled delivery day.
Scheduled Delivery & Pickup Dates
When scheduling your delivery and pickup dates, for your commercial or residential dumpster rental, please be aware that we do not give a time for either and it can be anytime during the scheduled days. We will give you a call on the day of delivery, so you know when we are headed your way. We don't offer a time because there are so many variables such as traffic and weather, that can change the schedule for the whole day.

When it comes time to pick up, the dumpster can be picked up at any time during the scheduled pickup day. We just ask that you have everything out of the way of the bin so we can load it up and take it away without having to bother you.
Queensbury NY Payment Options
We offer a few different payment options for our customers. We accept Cash, Credit Card, and Afterpay as payment methods.

Cash - If you want to use cash as your payment method, you can pay the driver directly on the scheduled day of the dumpster rental delivery. If you are not able to be around for delivery, you can stop into the office beforehand and pay for your bin rental.

Credit Card - We can take credit cards a few different ways. Starting with over the phone when you call the office. Our customer service representative will take all of your information and input it into our secure system to pay for your roll off dumpster. We can also send you an invoice and you can pay directly from your email.

Rest assured that Pack-It-In Dumpsters Inc. has the latest in security and encryption technology when it comes to processing payments. We take your payment card information very seriously and take every precaution to protect it as much as we can.

Afterpay - We understand that the cost of a dumpster rental can be a large expense, especially when it's unexpected. That's why we have made sure we can offer a financing option for our customers. Afterpay will split the cost of your roll-away dumpster into four equal payments over six weeks. Afterpay is super simple to use, and you can call the office at 518-791-3598 to find out if it's an option that will work for you.

Check out our blog article about our payment methods and Afterpay if you'd like to learn more.
Located at the foothills of the Adirondack Mountains in Warren County on the shores of Lake George, Queensbury NY is a popular area for tourism. Queensbury offers snowmobiling, hiking, atving, swimming, boating and much more. Queensbury continues to offer a tremendous amount of recreation opportunities for people of all ages.

Between the beautiful mountains in Queensbury and Lake George that was rated one of the united states most beautiful lakes, you couldn't find a better place to live or visit in New York.

In addition to the beautiful land, Queensbruy NY houses many businesses, small to large. These businesses cover a variety of industries offering ample oppurtunity.

The 2022 Rockefeller center christmas tree, an 82 foot tall, 14 ton Norway spruce was grown and transported form Queensbury.

We Take Just About Everything
Some examples of the junk we haul away include
Refrigerator Disposal

Garbage Removal

Mattress Disposal

Foreclosure Clean Outs
Construction Waste Removal

Yard Waste Removal

Trash Removal

Appliance Removal
Television Disposal & Recycling

Furniture Removal

E-Waste Disposal

Hot Tub Disposal