LET US
HAUL AWAY
YOUR JUNK,
TRASH & DEBRIS
Junk Hauling For Queensbury NY, Saratoga NY, Clifton Park NY & Beyond
Book Online Now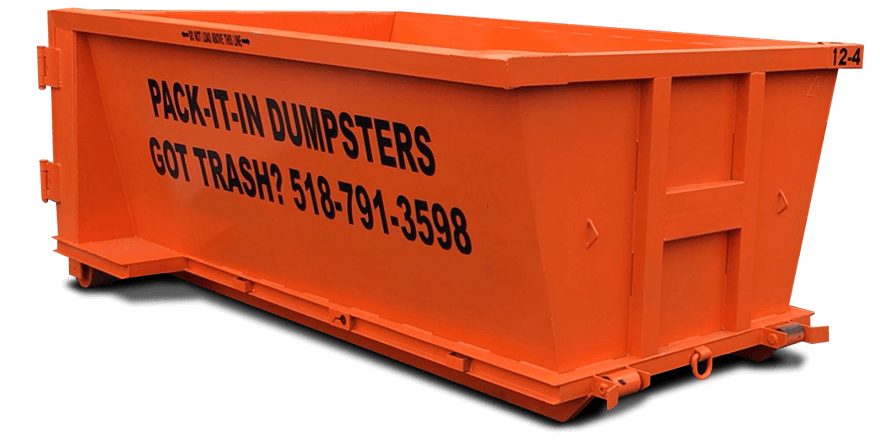 Got a lot of junk you're trying to get rid of?
Here's the good news: You don't have to spend and entire weekend filling up your car and hauling trash back and forth to your town dump. Instead, you can pick up the phone and call Pack-It-In Dumpsters Inc. for professional Junk Hauling.

Check out the areas we serve to find out what Dumpster Rental Services we offer near you.
We're your solution to speedy responses, personalized support, and affordable junk removal services. Our customers range from family members cleaning out relatives' estates to homeowners cleaning up after a landscaping yard waste project, renovation project, apartment clenaouts or even contractors during and after their construction projects.

No matter why you need our garbage hauling assistance, You can count on us. We'll put our dumpsters to work for you.
  Dumpsters

WE HAVE CHEAP DUMPSTER RENTALS THAT CAN BE DELIVERED TODAY FOR YOU!

Check out our pricing below and our online booking feature!
Time To Get Rid Of Your Junk?
When you're faced with the task of removing unwanted junk from your property, your first thought might to be to load it into the trunk of your car and make multiple trips to the dump. With Pack-It-In Dumpsters Inc. you can rent a spacious, heavy-duty dumpster that will make your project so much easier.

Have us deliver a dumpster to your home, fill it up as much as you wish, and then our junk hauling team will pick it up when you're done! It really is that easy to get rid of your trash.
Hire Pack-It-In Dumpsters Inc. To Be Your Junk Removal Business
We strive to be the junk hauling business you can call for projects of any size. Whether you need us to haul away old appliances in order to make room for brand-new ones or you need get rid of all the excess lumber and construction debris from your kitchen or bathroom remodel, you can rest assured we'll be able to get the job done quickly and efficiently, without forcing you to stretch your budget.
If there is one thing we know, It's dumpster rentals! We've rented over 6,127 dumpsters in your neighborhood. Thanks to our convenient dumpster rentals, Pack-It-In Dumpsters Inc. will help you complete your junk removal services on schedule.We understand your time is precious, so our garbage hauling team makes a point to arrive promptly and remove your dumpsters right away.

Our goal is, when you are starting a junk removal project, is to make our part of the job, hassle-free for you.Depending on the situation, sometimes we can even provide customers with same-day service! For speedy, effective junk hauling at an affordable rate, call Pack-It-In Dumpsters Inc. to schedule an appointment today!
Temporary Roll Off Dumpster Sizes We Offer
We have four different size dumpsters available for rent which helps us tailor our debris removal jobs to the size of your project and your budget.

We start with an 8 yard dumpster, which is equivalent to about 4 pickup truck loads. This size is perfect for small clean-outs whether is be your basement or garage and yard waste disposal.

Next is the 12 yard dumpster, which is equivalent to about 6 pickup truck loads. This size is great for small clean outs as well and also works well for small remodeling jobs. Bathroom or one room renovations would be the perfect fit for this dumpster size.

After that we have the 15 yard dumpster, which is equivalent to about 8 pickup truck loads. The 15 yard dumpster is great for bigger clean outs. It also works great for multiple room renovations or kitchen remodels.

Our biggest size we offer is the 18 yard dumpster, which is equivalent to about 10 pickup truck loads. We find this size works great for large clean outs, as well as residential remodels, commercial projects or large construction projects.
Type Of Customers Who Use Our Junk Hauling Services
Everyone, and i mean EVERYONE! We have customers for all different reasons using our hauling services.

It starts with the person who works 60+ hours a week and doesn't want to spend their weekend making trips to the local transfer station. They just want to get rid of their trash or yard waste pickup without a hassle.

Then we also have the customers who are helping family members. They are trying to make everything as efficient as possible to help get rid of the trash with the little extra time they have.

We have a lot of contractors who also don't have the time to make trips to the dump so they take advantage of out dumpster rentals. They can call and have it delivered, load it up and never have to touch the junk again.
Junk Removal Services & Moving
Are you getting ready to move into a new home. We know that is as exciting as it is stressful and that is why we are here to help. You won't have to worry about making it to the dump on time with your load of debris from your home.

You can book your dumpster rental for whatever day you prefer delivery to be. Once your dumpster is delivered you can have it there to load it right up while packing and moving things from your old home to your new home.

This will be the most convenient way to get rid of your junk and make your home swap experience much better. Once the roll-away dumpster is full, you wont have to do a thing. We will come take it out of the way and you will junk free.
We Take Just About Everything
Some examples of the junk we haul away include
Refrigerator Disposal

Garbage Removal

Mattress Disposal

Foreclosure Clean Outs
Construction Waste Removal

Yard Waste Removal

Trash Removal

Appliance Removal
Television Disposal & Recycling

Furniture Removal

E-Waste Disposal

Hot Tub Disposal