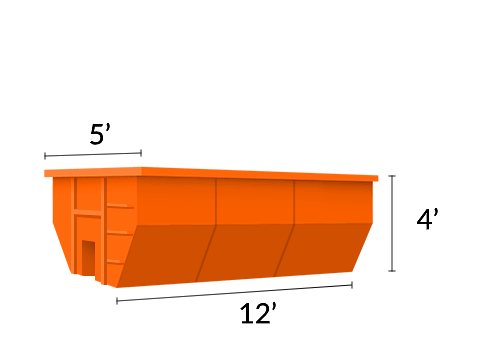 Size: 12'L x 3'T x 6'W
Days: Up to 5 Days
Rent Time Extension: $15/Additional Day
Ton(s): 1 Ton Included
Extra Weight: $120/Additional Ton
Description
*Dumpsters can be delivered and picked up at anytime during the scheduled delivery and pickup days. If you're starting your project in the morning and need the dumpster there early, please schedule the delivery date for the day before becasue we cannot guarantee a delivery time.
Quick & Easy 8 Yard Dumpster Rentals Near You
The 8 cubic yard dumpster is great for garage clean outs, landscaping projects, debris removal, roofing jobs and much more. Pack-It-In Dumpsters Inc. offers dumpsters in several sizes to help you tackle just about any job. If you need a larger dumpster, we do offer other options you can check out down below.
Other dumpster rental companies will try to make you rent a 15 cubic yard or 30 cubic yard dumpster when all you really need is an 8 cubic yard dumpster. Not only will you save money, but you'll also save your driveway & back. When you use our services, you'll see we take pride in what we do. We even place boards down in case of heavy debris so the roll away doesn't damage the property.
How big is an 8-yard Dumpster?
This dumpster is compared to roughly 4 pickup truck loads. It is great for small projects of any kind and its small size makes it easy to fit into tight spaces. This bin is great for when you have just a little too much stuff and need to make some room.
What is the weight limit of this size Dumpster?
You can load up to 1 ton or 2,000 lbs. into this dumpster. The weight limit is set high for its size so that way you have less chance of extra expenses from it being overweight. This bin can be loaded with trash, junk or construction debris. As long as no unacceptable or hazardous waste are placed in it, you will be good to go.
Customers love this size dumpster because it is easier to load with the shorter height and because it is so small it doesn't take up much room in your driveway or on your yard. We offer you an affordable dumpster service along with the best customer service.
On delivery day, your dumpster can be delivered at any time during the day, same goes for pickup. Please take that into account so you can choose extra days at $15 a day for a longer rental period at checkout.
Renting a dumpster is something most people only do here and there, but when it comes time, we want to make sure you're as informed as you can be about how our construction dumpsters work. You can also visit our blog to read articles on our dumpster rentals.
This size dumpster is pretty readily available because we have a large inventory of them. This makes same day deliveries much easier for you and us.
This is the smallest dumpster size we offer, and we have found it works great for a lot of customers who have used our rental company. Our rental service is meant to have roll off dumpsters that will be the most efficient for your upcoming project.
Pack-It-In Dumpsters Inc. offers dumpster rental in Queensbury, Saratoga, Clifton Park & Beyond. If you think your project might require a larger size bin, then check out our other cheap dumpsters down below and you can decide the best size and fit for your project: