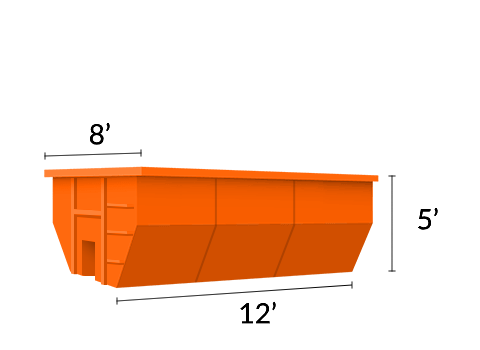 Size: 12'L x 5'T x 8'W
Days: Up to 5 Days
Rent Time Extension: $15/Additional Day
Ton(s): 2.5 Tons Included
Extra Weight: $120/Additional Ton
Description
*Dumpsters can be delivered and picked up at anytime during the scheduled delivery and pickup days. If you're starting your project in the morning and need the dumpster there early, please schedule the delivery date for the day before becasue we cannot guarantee a delivery time.
18 Yard Dumpster Rentals Near You
Renting a dumpster from Pack-It-In Dumpsters Inc. will make your project easier, allowing you to focus on the more important aspects of your clean out or remodel. Our goal is to help streamline the rental experience for you, which in return will make everything go smoothly for you and us. This is why, we guarantee great customer service every time!
This size roll off can fit the equivalent of roughly 10 pickup truck loads. Take a look at your debris and see if you think that is roughly that much. If it is, book your rental today so you have the bin when your project starts.
The 18 cubic yard dumpster in usually used for larger project such as large clean outs or full kitchen remodels, even yard projects with a lot of brush and debris. You will be able to throw construction debris, trash, or junk in the construction dumpsters.
When you're planning your DIY projects, just remember, we have the roll off sizes you'll need, and it'll be the easiest rental process you've ever experienced. We aren't like other dumpster rental companies who have low weight limits and not the best customer service. Our dumpster service is meant to make your backyard projects, waste removal project or whatever it might be, as simple and easy as possible.
We offer online booking as well as over the phone booking. Our online booking is super simple, and the system will walk you right thru it. If you prefer online booking tho, you're more than welcome to give us a call at 518-791-3598. We will make get everything set up, so you'll be ready for your project.
Once you book your roll away bin online or over the phone, all you have to do is be ready for us on delivery day. As long as you have everything out of the way from the placement area, we will place it right there without taking up too much of your outdoor space. If you think you'll need additional days, when booking the bin and scheduling the rental period, we can add them right on for you.
We offer such an easy dumpster rental because we know you have more important things to do than worry about your roll off company. We will gain your trust and keep it by following thru on our word and having the roll away delivered on the scheduled day of delivery.
You can find the 18 yard dumpster dimensions up above. Then you'll be able to make sure it is the perfect size your all your junk and that it'll fit where you'd like it without any problems.
You can check out our blog to learn some good information about renting a bin from us. We post articles weekly pertaining all different kinds of home improvement tips and tricks.
We service Queensbury, Glens Falls, Saratoga, Clifton Park & Beyond. If you're outside of our service area, we still might be able to deliver to you. Feel free to give us a call and see if we can make special accommodations to set up a rental for you.
A lot of customers will be looking for a 20 yard dumpster and wonder if the 18 yard dumpster will work in it's place, and it will. The 18 yard yard dumpster rental and 20 yard dumpster rental are ony 2 yards different in size, most people don't even notice the difference. The 20 yard dumpster dimensions are almost the same as the 18 yard dumpster dimensions, so you can fit them in the same spaces. So if you're looking for 20 yard dumpster rental prices near me, you'll see the 18 yard roll off dumpster we have to offer at a much better price along with the best customer service. so if you're looking for a 20 yard roll off dumpster, we have a dumpster size that will work to fit your project.
Here at Pack-It-In Dumpsters Inc. we offer a variety of roll off dumpsters in different sizes to help you tackle any size job, whether it's an easy diy project or a full home remodel. If your project requires another size bin, then check out our other options down below to find the dumpster sizes and which will fit your project perfectly: