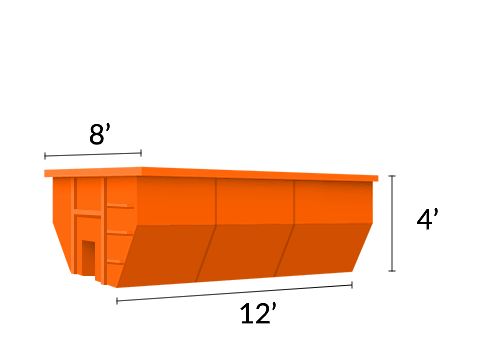 Size: 12'L x 4'T x 8'W
Days: Up to 5 Days
Rent Time Extension: $15/Additional Day
Ton(s): 2 Tons Included
Extra Weight: $120/Additional Ton
Description
*Dumpsters can be delivered and picked up at any time during the scheduled delivery and pickup days. If you're starting your project in the morning and need the dumpster there early, please schedule the delivery date for the day before because we cannot guarantee a delivery time.
15 Yard Dumpster Rentals Near You
When it's time for you to rent a dumpster, a 15-yard temporary dumpster rental is a great choice for your project, including residential clean outs, construction sites and commercial projects. The 15 yard dumpster is perfect for full home clean outs, debris removal services, home remodels, and just about anything else you can think of.

Our customer service representatives will make sure that the booking and rental process is hassle free and answer any questions you may have before, during and after your bin rental. Our professional drivers will make sure that the dumpster is delivered and placed where you want it, while taking precautions to not damage your property.
Online Dumpster Rental Booking - Renting a 15-yard dumpster with Pack-It-In Dumpsters Inc. online is as easy as selecting the correct size dumpster, selecting the delivery and pickup dates that work best for your schedule, filling out all the information including placement of the dumpster and the debris you'll be getting rid of, then you'll be able to take care of the payment and receive a copy of your receipt in your email.
Over The Phone Dumpster Booking - You can always just give us a call as well and we can book the dumpster with you over the phone. We guarantee great customer service so you will not be disappointed no matter what method you choose to schedule your 15 cubic yard dumpster delivery.
Rental Duration - We offer up to a 5-day rental with our 15 yard dumpster rentals. We can add whatever number of extra days or just an additional day if you'd like, for just $15 extra per day. The dumpsters can be delivered and picked up anytime during the scheduled delivery and pickup days so please choose those days accordingly.
Scheduled Delivery Day - We will give you a call on the delivery day when we are headed to your house with the roll off, but we do not give an exact time for delivery because traffic and weather conditions can change our schedule quickly. We just ask that before the dumpster is delivered, the spot you'd like the dumpster placed is clear of any obstacles, such as, low hanging tree branches or wires, debris or vehicles so the driver can easily back in and unload the dumpster without any issues.
Once the dumpster is delivered, you'll be able to start filling it with whatever junk & trash you have. Just remember, don't go above the fill line that way we can safely transport it down the road without any debris falling off and causing accidents. When booking, make sure you check the weight limit so your roll off dumpster doesn't go overweight and incur any extra fees.
Scheduled Pickup Day - On the scheduled pickup day that you choose, the truck can be there to pick up the bin at any time during the day so we just ask to have all of your items loaded into the dumpster before the day of pickup and to make sure that there is no cars or debris blocking the roll off so the driver can get to the dumpster smoothly without issues and doesn't have to bother you.
15 Yard Dumpster Payment Options - We offer a few different payment methods for you to pay for your 15Yd Dumpster. We accept Cash, Credit card and Afterpay.
Cash - If you want to use cash as your payment method, you can pay the driver directly on the scheduled day of the dumpster rental delivery. If you are not able to be around for delivery, you can stop into the office beforehand and pay for your bin rental.
Credit Card - We can take credit cards a few different ways. Starting with over the phone when you call the office. Our customer service representative will take all of your information and input it into our secure system to pay for your roll off dumpster. We can also send you an invoice and you can pay directly from your email.
Afterpay - We understand that the cost of a dumpster rental can be a large expense, especially when it's unexpected. That's why we have made sure we can offer a financing option for our customers. Afterpay will split the cost of your roll-away dumpster into four equal payments over six weeks. Afterpay is super simple to use, and you can call the office at 518-791-3598 to find out if it's an option that will work for you. Check out our blog article about our payment methods and Afterpay if you'd like to learn more.
Rest assured that Pack-It-In Dumpsters Inc. has the latest in security and encryption technology when it comes to processing payments. We take your payment card information very seriously and take every precaution to protect it as much as we can.
Pro Tip: Break down as many items as you can to fit as much into the bin and use as much space as possible without leaving voids. This works great for residential and commercial customers. Check out our blog for articles with tips on dumpster rentals.Hazardous Materials - Please contact us if you have any questions about what materials can or cannot go into your dumpster. We can let you know what is acceptable, what is unacceptable, and what is hazardous.
Picking The Right Size Dumpster - We give you the estimated amount of truck loads each bin size can hold. With that if you can estimate how much trash, junk or debris you have and make the best choice which size roll away is best for you.
Dumpster Sizes - If you think your project might require another size bin, then check out our other dumpster sizes down below and you can decide which will be the best fit for you. You'll find the dumpster dimensions listed there as well to help you make sure you have enough space for placement and the debris you will be throwing into the dumpster.