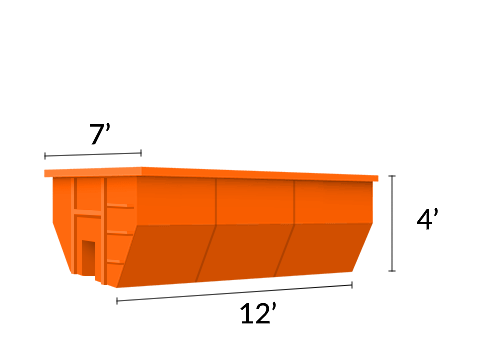 Size: 12'L x 4'T x 7'W
Days: Up to 5 Days
Rent Time Extension: $15/Additional Day
Ton(s): 1.5 Tons Included
Extra Weight: $120/Additional Ton
Description
*Dumpsters can be delivered and picked up at anytime during the scheduled delivery and pickup days. If you're starting your project in the morning and need the dumpster there early, please schedule the delivery date for the day before becasue we cannot guarantee a delivery time.
Fast & Affordable 12 Yard Dumpster Rentals Near You
What is this size Dumpster commonly used for?
When renting a dumpster from our junk removal company, some of the uses are small furniture removal, bathroom remodeling, junk removal, yard debris, cleaning out during a moving process and much more. If you have a small remodel going on, decided to do some landscaping or just have some junk you need hauled away, this might be the perfect size roll off dumpster for you to rent.
How big Is a 12 cubic yard Dumpster?
12 cubic yards is roughly equivalent to 6 pickup truck loads so the 12 yard roll away bin will make your project quick and easy, saving you time and money every step of the way. This size dumpster is great for small home remodels, replacing and moving furniture or just small remodels.
How long is the rental period?
We offer up to a 5 day rental. This does include the delivery and pickup days. The bin can be delivered and picked up at any time during the scheduled delivery and pickup days, so take that into account when scheduling your rental periods. We do offer extra days at $15 a day if you feel you'll need the roll off for longer.
What is the weight limit included?
For this roll off dumpster size, it has a weight limit of 1.5 tons or 3,000 pounds that the dumpster can hold. This weight limit is plenty for any of the large or small projects you will be doing.
Don't worry about the weight limit as much as making sure you have the right size bin for the amount of trash, junk or debris you have. The limits are set accordingly with the size of the roll away so that you have less chance of incurring extra fees from going overweight.
Do you offer extra days?
We do offer extra days for the rental period. We charge $15 per day extra. if you think you'll need more time to fill the dumpster than the included rental period, you're more than welcome to book it for a longer period of time.
Why do customers love us?
Customer love dealing with us because we make the rental process as quick and easy as possible for our dumpster service. We offer easy online booking or the traditional booking over the phone as well.
Our online booking it so simple anyone can do it. Once you decide the size of the dumpster you'd like, you can pick your delivery and pickup days, then fill out a little information and you'll be ready to have a dumpster delivered to your home.
If you decided to call us, our customer service won't disappoint you. We will help you decide what the best size dumpster for your project is, and what the best delivery and pickup dates will be. After we have that information, we will just get a little more information from you and then you'll be on the schedule to have a dumpster delivered.
When will delivery occur?
We don't give a time for delivery or pickup because of how fast the schedule can change depending on traffic and weather, nut nobody has to be around for delivery as long as the agreement is signed, and we have the proper placement of the bin. Make sure you take that into account when scheduling your rental, that way you will have plenty of time to load the dumpster before its scheduled to be taken away. Also, nobody has to be around for pickup either, we just ask you to make sure there is nothing in the way so we can easily access the dumpster, pull it on the truck and get it out of your way without bothering you.
Pack-It-In Dumpsters Inc. is the leading provider of dumpsters in Queensbury, Saratoga, Clifton Park & Beyond. We strive to be the best dumpster rental company while offering bins in various different sizes. If you think your project requires a larger or smaller dumpster, check out our other options down below: