GET RID OF
YOUR JUNK TODAY
WITH A CHEAP
DUMPSTER RENTAL
Dumpster Rental & Junk Hauling | Saratoga Springs, NY
Book Online Now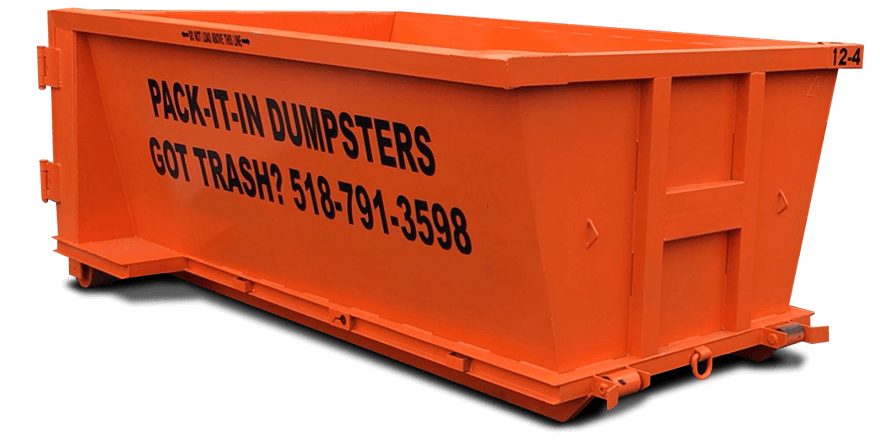 Saratoga Springs, NY Affordable Dumpster Rentals
Cheap dumpster rental in Saratoga Springs, NY helps you control the trash and junk generated when you have a home improvement project. The process to rent a dumpster is fast & easy. It is also one of the most affordable ways to dispose of junk and waste from your remodel or clean out.

After you pick the right size container for your project, all you'll have to do is throw every piece of furniture, lumber or household debris you need gone inside it. Once the bin is full, you can let the Saratoga dumpster rental company you hired, pick up the container and haul it away for proper disposal.

Pack-It-In Dumpsters Inc. offers quick and affordable dumpster rental options in Saratoga Springs, NY. Contact us now to rent a dumpster in Saratoga Springs, NY.
  Dumpsters

WE HAVE CHEAP DUMPSTER RENTALS THAT CAN BE DELIVERED TODAY FOR YOU!

Check out our pricing below and our online booking feature!
Rent a Roll-off Dumpster in Saratoga Springs, NY
Alot of homeowners in Saratoga Springs, NY are not sure if they're able to rent a roll off dumpster when they need to be mostly because of unavailability and affordability of small size dumpsters. Now, there is no reason not to rent a dumpster when you need to thanks to our cheap dumpster rentals.

We offer four different size dumpsters ranging from 8yd - 18yd that will work perfect for your project. Pack-It-In Dumpsters Inc. offers a no hassle guarantee making sure that every customer is a happy customer. Whether we are serving contractors, homeowners or other renters in Saratoga, NY and the neighboring areas, we make sure you are left with a great dumpster rental experience.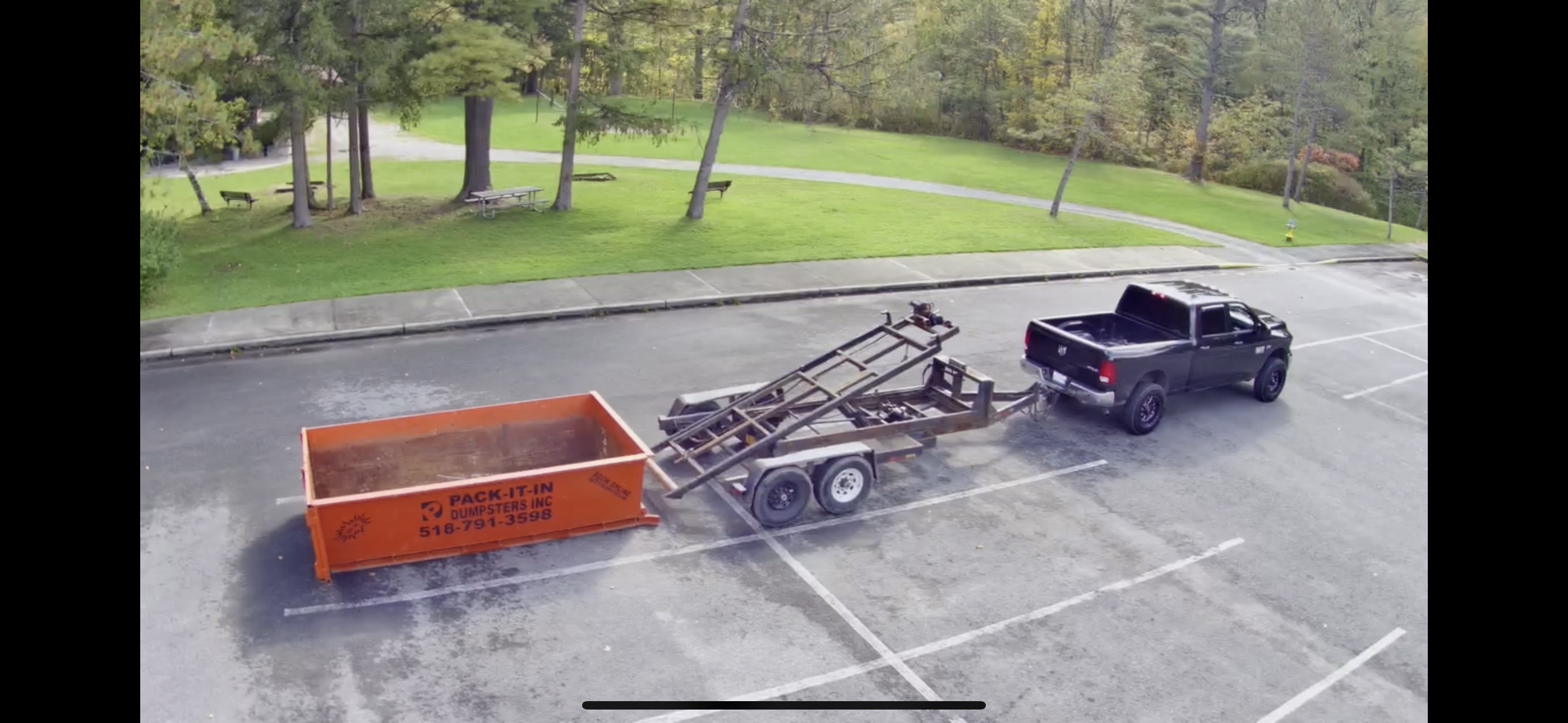 Residential Dumpster Rentals
---
Most of our customers call in to rent roll-off dumpsters for different size commercial and residential projects. These projects include removal of yard debris, junk removal, remodeling or a renovation on your home and many more projects requiring a roll off dumpster rental in Saratoga Springs, NY.

We are always able to deliver you the right size dumpster for the job! We offer various waste containers in various roll off dumpster sizes in Saratoga Springs, NY and these sizes include; 8-yard dumpsters, 12-yard dumpsters, 15-yard dumpsters and 18-yard dumpsters. Our dumpster rentals sizes range from small to large depnding on how much trash you need to get rid of from your upcoming project.

You really never have to worry about placement space if you have access to a driveway or even some space on your yard we can usually fit the dumpster in that area. Our roll offs don't take up much more room than a car would if it was parked in the same spot.
Construction Dumpster Rentals
Do you have a kitchen remodeling project, a shingles replacement project, a deck removal or a basement renovation project to do in Saratoga Springs, NY? Get the best construction dumpster rentals from us and get rid of all the construction debris at once without a whole lot of hassle.

Our rental dumpsters are very-well maintained, and you don't need to worry about having an ugly container sitting in your driveway or yard. You can count on us to deliver your dumpster when you need it so it is ready for your project.
Saratoga Dumpster Rental Sizes
If you find the available Saratoga Springs, NY dumpster rental sizes a bit confusing, that is very common especially if you have no prior experience renting a dumpster in Saratoga Springs NY.

Just give us a call and any of ous here at Pack-It-In Dumpsters Inc. will be able to discuess your project and the types of materials you're throwing away so that you can select the right size dumpster for.

You can also check out our online booking for more information about the dimensions and approximate truck loads of each bin size.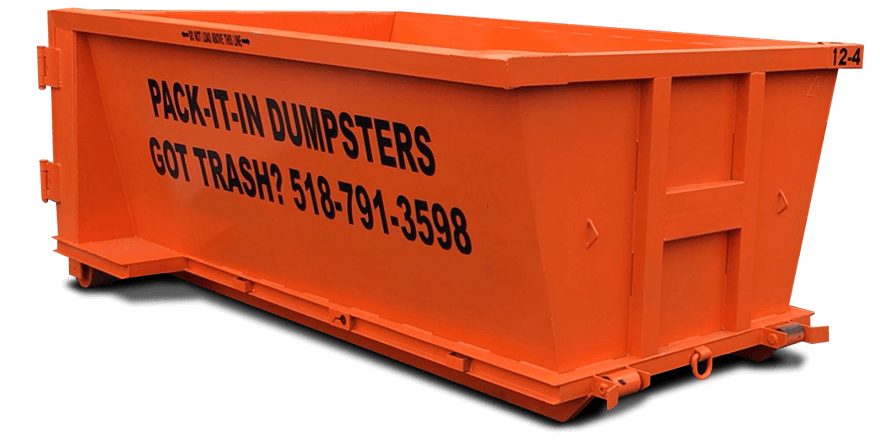 How To Rent A Dumpster in Saratoga Springs NY?
---
You can call us at (518) 791-3598 or visit our website and use our online booking service to rent a dumpster in Saratoga Springs, NY. We usually only ask you a few questions over the phone or online to get the details of the rental dumpster you need as well as the delivery details in order to deliver it to you on-time, wherever you need it. Our dumpster rental costs depend on the size of your rental dumpster and the rental duration.

If you live in an area of Saratoga Springs, NY where you neither have space on your yard or driveway to use as a placement area, you can opt to place the roll-off container once delivered out on the street. To place a roll-off dumpster on any public space for any length of time, you need to obtain a dumpster permit from your local office.

Contact us for affordable commercial and residential dumpster rentals today in Saratoga Springs, NY!
The Saratoga Springs NY Dumpster Rental Company You Can Rely On
Available Payment Methods In Saratoga Springs, NY
We offer a few different payment options for our Saratoga Springs, NY customers. We accept Cash, Credit Card, and Afterpay as payment methods.

Cash - If you want to use cash as your payment method, you can pay the driver directly on the scheduled day of the dumpster rental delivery. If you are not able to be around for delivery, you can stop into the office beforehand and pay for your bin rental.

Credit Card - We can take credit cards a few different ways. Starting with over the phone when you call the office. Our customer service representative will take all of your information and input it into our secure system to pay for your roll off dumpster. We can also send you an invoice and you can pay directly from your email. Rest assured that Pack-It-In Dumpsters Inc. has the latest in security and encryption technology when it comes to processing payments. We take your payment card information very seriously and take every precaution to protect it as much as we can.

Afterpay - We understand that the cost of a dumpster rental can be a large expense, especially when it's unexpected. That's why we have made sure we can offer a financing option for our customers. Afterpay will split the cost of your roll-away dumpster into four equal payments over six weeks. Afterpay is super simple to use, and you can call the office at 518-791-3598 to find out if it's an option that will work for you.

Check out our blog article about our payment methods and Afterpay if you'd like to learn more.
We Take Just About Everything
Some examples of the junk we haul away include
Refrigerator Disposal

Garbage Removal

Mattress Disposal

Foreclosure Clean Outs
Construction Waste Removal

Yard Waste Removal

Trash Removal

Appliance Removal
Television Disposal & Recycling

Furniture Removal

E-Waste Disposal

Hot Tub Disposal